Welcome to
THE END OF THE F****ING WORLD WIKI.
Help
•
Terms of Use
•
Wanted Pages
•
Categories
This wiki is about all things related to
The End of the F***ing World
, that anyone can edit!
---
ABOUT THE SHOW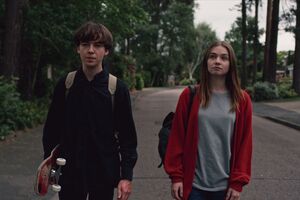 James is a 17-year-old who believes he is a psychopath. He kills animals as a hobby, but grows bored of the practice. He decides he wants to try killing a human. He settles on Alyssa, a mouthy, rebellious 17-year-old classmate with issues of her own. She proposes they run away together, hoping for an adventure away from her turbulent home-life, and James agrees with the intention of finding an opportunity to kill her. They embark on a road trip across England, and begin to develop a relationship after a series of mishaps.
Read more about the show here...
---
CHARACTERS
---
FEATURED VIDEOS
QUOTE
"
Sometimes everything is suddenly really simple, You step out and you see where you are really clearly. You see yourself, and you think, 'F*** this shit.'
"

–Alyssa
TWITTER